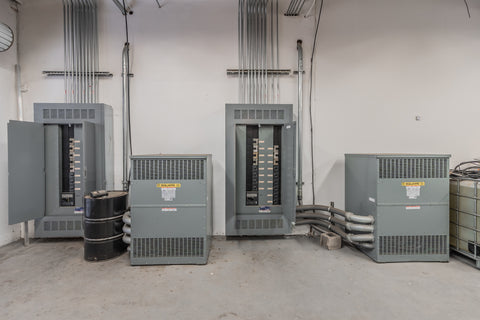 Miners are Really Freaking Loud & Really Freaking Hot
And one miner will double your power bill. So unless you're trying to get divorced, you need a place to put them. We got you! Also, our electricity is probably cheaper than yours anyway. Aside from a setup fee, electricty is the only fee you pay us. You don't need to buy the miner from us either, just reach out and let's get going on receiving your miners.
Only USA-Based Hosting
A Place For Every Miner
You only pay for electricty + a $50 1-time setup fee. Each facility meets stringent criteria to ensure the best experience possible. Your miners sit alongside ours.

One of our hosting facilities are located onsite at our HQ and we are partnered with multiple facilities across the country.
Peace of Mind
Remote Monitoring
At any given time you can see how cool or hot your machines are running, how well they are hashing, and more. As my dad would say, "Pretty neat."
How much is my electricity bill going to be?
If you are mining BTC then simply use the calculator below to get an estimate on how much electricity will cost per month.
Bitcoin

Mining Reward Forecasts
*
Bitcoin

Price at

$26,908

USD

Updated:
Time Frame

BTC

Reward
Revenue USD*
Power Cost

(in USD)

Profit

(in USD)

Daily
0.00040705
$11.08
$10.98

($0.13)

Weekly
0.00284935
$77.53
$76.86

($0.88)

Monthly
0.0122
$332.29
$329.41

($3.77)

Annually
0.1486
$4,042.85
$4,007.88

($45.88)
Most mining pools will also charge a 0 - 2% pool fee of all crypto mined.
Contact Us About Hosting Deposits
Please leave a detailed message about your hosting needs.
1.Types of miners and quantities of each.
2. Type of hosting (air-cooled or immersion).
Mining Syndicate requires 3 months of payment to begin hosting. This is similiar to a first and last months rent as well as a deposit.
Absolutely! We add on the CC transaction cost to each miner.
Normally you will be hashing within 1-3 weeks. Message us to confirm!
We do three things really well:

1. We sell whole miners at amazing prices with no minimum order quantities. You can even pay with a credit card!
2. We sell as little as 1% of miners for immediate hosting for as little as $50.

2. We host miners at our facilities in Dallas, Kentucky and Idaho.

Do you have a miner already? Ship it to us to host!

Do you need a miner but want to host it yourself? Buy it from us and we'll ship it to you!

Do you need a miner AND a place to host it? We'll do both! Simple, right?
If hosted with us, it doesn't matter! If hosted at home, put in your home address!
All miners stop by our warehouse first, regardless of whether they're ending up at your house or to be hosted with us.
Almost all of them come from China or Malaysia. We occasionally keep some in stock in Dallas but that is rare. Price volatility makes keeping stock on hand nearly impossible.
Yes, we accept credit cards! We also accept wire, pinwheel and of course, crypto. Payment is required in full upfront. Prices are not locked in until payment has been received. Prices on the website include the CC processing fee.
Miners are a commodity, much like gold, corn or soybeans. The market price of miners moves with the price of Bitcoin. Everyone is subject to market prices, which means that discounts are very hard to come by. If you plan on ordering 5+ units we can offer a slight discount. Otherwise it will not be possible, unfortunately.
Usually about 4-10 days. Sometimes there are unforeseen customs clearance delays, but these are rare. Preorders are more commonly delayed.
Most new miners come with a 12 month manufacturer's warranty. You will need to verify before you purchase. Some used miners come with 3-9 months warranty remaining, but this is not always the case.
You will need to submit a claim with the shipping carrier. Mining Syndicate cannot be held responsible for the mistakes of a shipping carrier. Don't worry though, we have been able to recover 100% of any shipping mistake that has been made (very few).
Miner Hosting Services & Why Choose Us
If you were to have Bitcoin miner hosting in your own home, you'd very quickly notice your electricity bill double. Not to mention the noise and heat that comes with miners.
These aspects can't be helped or stopped. Miners get hot, are loud when they operate and take a lot of energy to keep them going. However, with Mining Syndicate's miner hosting services, you don't have to deal with any of those issues in your own home.
Crypto miner hosting on a large scale is not a common business around the world. This type of company requires a lot of work, knowledge, stability, and transparency for clients. Boxes that not many ventures can tick.
However, we tick all the boxes and more with our Bitcoin miner hosting USA. Since the beginning, our dedicated team has been determined to be the country's number one miner hosting option for everyone.
As of right now, we have seven facilities across the states that we use for our cryptocurrency miner hosting. All our facilities are closely monitored and temperature controlled to ensure that your miner is never offline or at risk of damage.
Once you get set up with our miner hosting services, you'll be able to track and monitor your miner from wherever you are. You'll be able to see the daily reports and live updates of your miner's status, as well as the Bitcoin mined.
While we understand that many companies in the past have offered Bitcoin miner hosting and let their clients down, we are not the same. At Mining Syndicate, we are serious about what we offer and what we can do for you and the Bitcoin community.
Our company was set up to enable anyone in the world to mine Bitcoin without the large upfront costs or be held back due to lack of space or resources in their own home.
The miner hosting we have available means that no matter your budget, we'll be able to help. Long gone are the days when you would need rigs and equipment in your bedroom. Now, you can be part of the community and part of the future with just a few clicks.
While we offer miner hosting USA options, our services are open to anyone regardless of your location. The great thing about using us is that you can sign up from the other side of the world safe in the knowledge that we'll take care of everything for you.
Cryptocurrency miner hosting is our passion and we are sure that you'll see our dedication to our work and clients when you come on board.
Crypto miner hosting has made it easier than ever for the 99% to join the 1% in mining BTC and being part of the future.