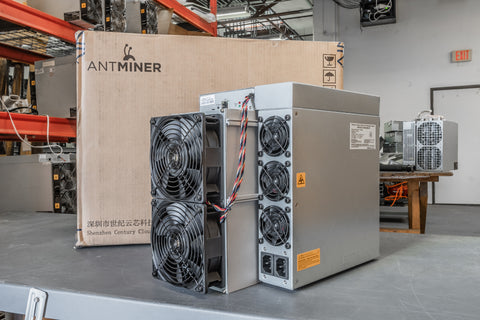 We Bring Mining to Everyone
Whether your budget is $50 or $500,000, we can help you mine crypto as soon as today. Proudly located in Dallas, TX, USA.
Shop Whole Miners + Hosting
Thanks to the price of Bitcoin being down, miner prices dropped 70+% last year. The $4k miners above were over $13,000 in 2022! If history repeats itself, these same miners will likely be worth over $10k again once Bitcoin recovers.

If $4k is still too big of an investment, check out our fractional mining options below. We developed our own software called Split Shares. Split Shares makes mining as easy as buying something on Amazon. You can buy as little as 1% of a miner and be mining within seconds. There's a video below to learn more about how it works.
Only USA-Based Hosting
We Take Care of Your ASICs
You only pay for electricty + a $50 1-time setup fee. Each facility meets stringent criteria to ensure the best experience possible. Your miners sit alongside ours.

1 of our hosting facilites are located onsite at our HQ and the others are at partner facilities in Idaho & Kentucky.
Learn More
Absolutely! We add on the CC transaction cost to each miner.
1-2 weeks as of 9/22/2022. Message us to confirm!
We do three things really well:

1. We sell whole miners at amazing prices with no minimum order quantities. You can even pay with a credit card!
2. We sell as little as 1% of miners for immediate hosting for as little as $50.

2. We host miners at our facilities in Dallas, Kentucky and Idaho.

Do you have a miner already? Ship it to us to host!

Do you need a miner but want to host it yourself? Buy it from us and we'll ship it to you!

Do you need a miner AND a place to host it? We'll do both! Simple, right?
If hosted with us, it doesn't matter! If hosted at home, put in your home address!
All miners stop by our warehouse first, regardless of whether they're ending up at your house or to be hosted with us.
Almost all of them come from China or Malaysia. We occasionally keep some in stock in Dallas but that is rare. Price volatility makes keeping stock on hand nearly impossible.
Yes, we accept credit cards! We also accept wire, pinwheel and of course, crypto. Payment is required in full upfront. Prices are not locked in until payment has been received. Prices on the website include the CC processing fee.
Miners are a commodity, much like gold, corn or soybeans. The market price of miners moves with the price of Bitcoin. Everyone is subject to market prices, which means that discounts are very hard to come by. If you plan on ordering 5+ units we can offer a slight discount. Otherwise it will not be possible, unfortunately.
Usually about 4-10 days. Sometimes there are unforeseen customs clearance delays, but these are rare. Preorders are more commonly delayed.
Most new miners come with a 12 month manufacturer's warranty. You will need to verify before you purchase. Some used miners come with 3-9 months warranty remaining, but this is not always the case.
You will need to submit a claim with the shipping carrier. Mining Syndicate cannot be held responsible for the mistakes of a shipping carrier. Don't worry though, we have been able to recover 100% of any shipping mistake that has been made (very few).
Mining Syndicate offers Bitcoin miner hosting services in Dallas, TX. We offer a range of hosting solutions for individuals and organizations looking to enter the world of Bitcoin mining. This includes specialized hardware, secure hosting environments, and technical support.
Bitcoin mining is the process of adding transaction records to the public ledger of the cryptocurrency. This ledger of past transactions is called the blockchain. Picture a super giant spreadsheet that anyone in the world can access freely. The blockchain serves to confirm transactions to the rest of the network as having taken place.
Bitcoin miners are responsible for verifying transactions and ensuring the security of the Bitcoin network. This is done by merely guessing numbers, not by solving hard math problems, as many believe. In order to do this effectively, miners need specialized hardware and software. This is where miner hosting comes into play.
Miner hosting is a service that provides individuals and organizations with the infrastructure and support needed to effectively mine for Bitcoin. This typically includes specialized hardware, such as ASIC miners, as well as a secure hosting environment and technical support.
Mining Syndicate offers a range of miner hosting options from Dallas, TX and four other facilities around the US. We offer state-of-the-art ASIC miners, as well as a secure hosting environment and technical support. We can focus on setting up your miners so you don't have to worry about the costs and challenges of setting up and maintaining a mining operation.
Mining for Bitcoin requires significant amounts of electricity and can generate a lot of heat, which can be expensive and difficult to manage on your own. Mining Syndicate takes care of these costs and issues, so your wife doesn't get pissed about that humming coming from the garage.
In addition to Bitcoin, Mining Syndicate also offers hosting services for a range of other popular cryptocurrencies, including Ethereum, Kadena, Dogecoin, Litecoin, and Dash. We sell all types of crypto miners as well.
Why Buy a Bitcoin Miner From Us?
Finding a Bitcoin miner for sale from a reputable company isn't always easy. We've all heard the horror stories of scams in one way or another. These scams have become more prevalent as the Bitcoin community is growing.
Bitcoin mining has exploded in recent years since Bitcoin mining machines have become easier and cheaper to access and run than ever. And we have made it our mission to enable anyone and everyone to get their hands on a Bitcoin mining machine without the risk of fraud.
At Mining Syndicate, we have a whole catalog of options for a crypto miner for sale so you can choose the Bitcoin mining machine that suits your budget. Whether you choose to host one or a hundred machines with us, we'll make sure you get five-star service from start to finish.
We work with companies overseas to guarantee that we'll always have the best selection of a Bitcoin mining machine for sale every single day.
Collaborating with international companies means that not only can we give our clients the best selection of products but we can also give the most competitive prices and have a crypto miner sale whenever possible.
Since Mining Syndicate's inception, we have strived hard to provide affordable prices, excellent customer service, and loyalty to our clients who buy or hire our Bitcoin mining machines.
We understand how important transparency and honesty are, especially in this industry, and we work hard to ensure all our clients are valued, cared for, and know they are working with the best in the business.
If you're looking for a crypto miner for sale but aren't sure where to begin, just get in touch with us here and our dedicated team will give you all the information you need and answer any questions with zero obligation on your part.
You can also explore our website to get to know us better, read our blog to see the latest news and learn more about Bitcoin and run through our catalog to see what options there are for you. If you want a Bitcoin mining machine for sale, you want a chat, or even if you want to visit our head office in person, we are happy to help.
We are experts when it comes to a Bitcoin miner for sale and we are certain that you will see that for yourself if you choose us as your Bitcoin host.